Wire rod FAQ
We, at Nagaoka Steel Works, Ltd. answer the technological requests of our clients, by exploiting our long years of experiences.
Here, we introduce mainly the examples to date in order for you to better understand about us, by using Q & A format.
Q1. While we produce products using stainless steel wires, can you, at Nagaoka Steel Works, Ltd. process the wire to suit to our products?
While we are the secondary maker of wire rods, we can cope with most of the third processing. When consulted, we can process according to your needs and also can produce small-lot of a wide variety of items.
Q2. Tell me more about the aluminium spacer to secure optical fibers.
The aluminium spacer is the product that requires very advanced technology for such as severe precision in dimensions, surface scars and guarantee of the overall length. We have succeeded in its productization by utilizing the technologies we developed in the past and by repeating trial and error. As shown in the picture, we can produce from the groove-1 to the groove-8.


Q3.Do you produce special shaped wires?
We produce such kinds of shapes as flat, rectangular, regular, triangular, hexagonal, half-round, oval, and petal shape (See the figures below). We can also produce other shapes than these when consulted.

Q4.Tell me more about the vertebra for automotive wiper.
In the case of stainless steel vertebra, high-strength, high precision in dimensions, and high straightness are required. We, at Nagaoka Steel Works, Ltd. have succeeded in its productization with human and technological supports by the research department of NIPPON STEEL Stainless Steel Corporation. An example of our collaborative relationship with NIPPON STEEL Stainless Steel Corporation.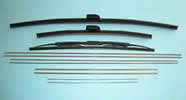 @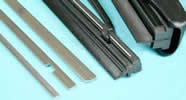 Q5.Up to what size of wire thickness can you produce?
We can cope with every size from thin diameter to thick diameter. It is our distinguishing feature to be particularly good in thick diameter, with up to 30mm for coiled type and up to 13mm for straight rod available.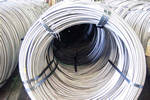 Q6.Can you accept orders for processing?
Acid cleaning and pre-treatment of steel materials are available. We can cope with controlled atmosphere heat treatment of Cr stainless steel and also wiredrawing/pre-treatment of titanium is available. At Kudamatsu Factory, STC furnace (large automated heat treatment furnace) and BA furnace (bright annealing furnace) are installed, offering the state of the art heat treatment.